Cookie Dough - Cookie dough, gifts and magazines were sold in September. Orders were picked up in late October. We have participated in this fundraiser for the past few years, and it is always highly successful.
REAP Fundraiser - In early November, orders for foods from local farmers and artisas were taken with December delivery.
Continuous Fundraisers
Earn Cash and Equipment for Our School

Box Tops for Education


Box Tops for Education makes it easy to help our school earn the extra cash it needs. Make a difference every time you go to the grocery store! Box Tops for Education has helped America's schools earn over $175 million in just over 10 years. Learn more about how you can make a difference for our school with Box Tops.

Earn cash for your school through everyday activities: buying groceries, shopping online and making purchases with a credit card. All at no additional cost to you! Clip Box Tops from hundreds of participating brands. Earn up to 8% back for your school when you shop online and 1% every time you use your credit card. With your help and the dedication of your school's volunteer Box Tops Coordinator, your school can earn up to $60,000 through Box Tops each year. That's as much as $20,000 each from clipping Box Tops, shopping at the Box Tops MarketplaceSM and using the Box Tops Visa® card.
Labels for Education
For more than 30 years, Labels for Education has been awarding free educational equipment to schools in exchange for proofs of purchase from the Campbell family of brands. It's a fun, easy program where students, families and members of the community work together for a common goal.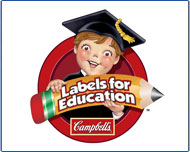 Today, 75,000 schools and organizations are registered with Labels for Education, benefiting more than 42 million students. Over the years, we've been able to provide more than $100 million in merchandise to America's schools!
Help Chavez earn points to redeem for free merchandise! Earning points is easier than ever. Just clip the UPC from eligible products. Remember, you no longer need to clip the entire label - just the UPC code itself.